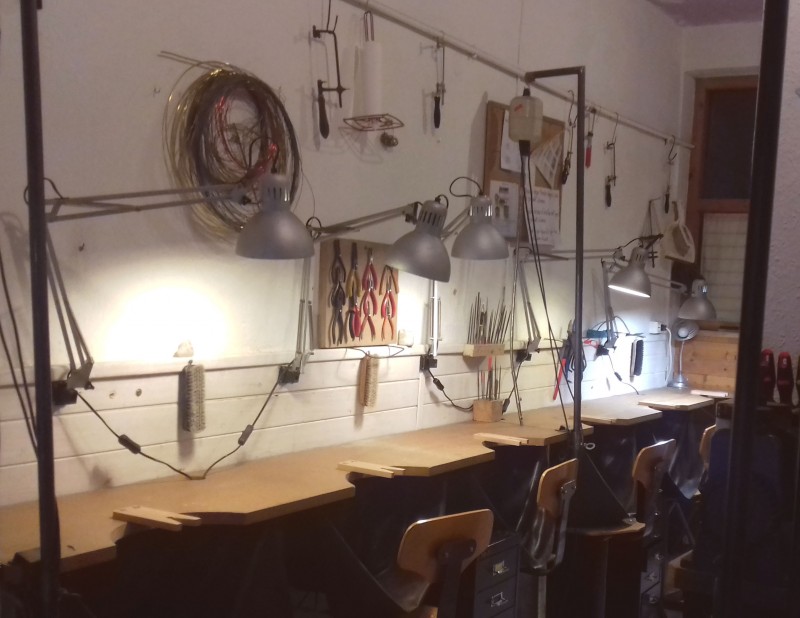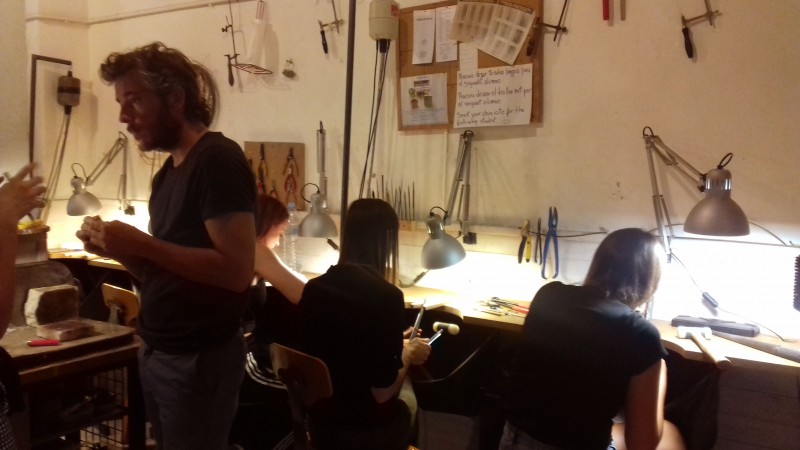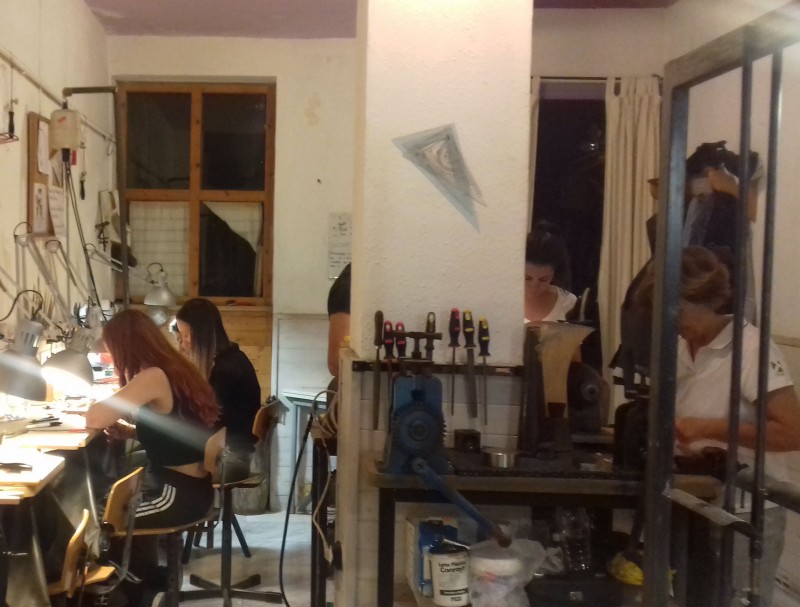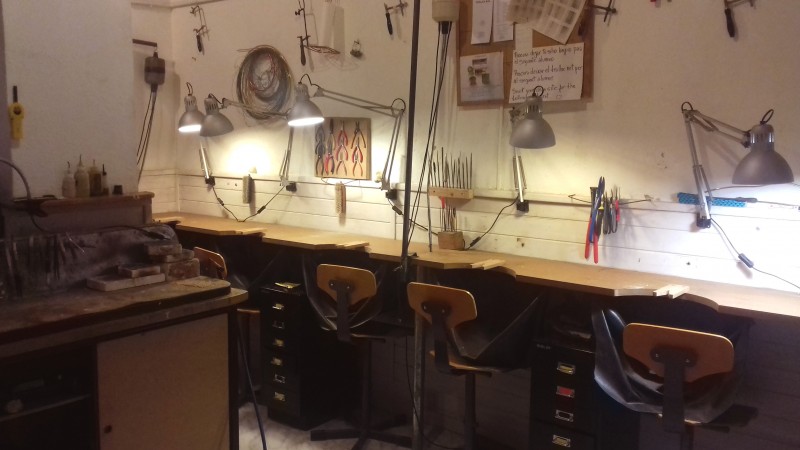 programa curso espiral (By David Quejido)
Jewelry clases were launched in La Casa de la Espiral in 2006 with only two students. But as time went by, more and more students joined our community.
For several years already we are offering four Jewelry classes every week with a maximum of 5 students in every group. This gives our teachers the oportunity to elaborate a personal program for each student depending on its skills level.
Classes are given for beginners, advanced students and professional goldsmiths and jewelers who want to learn any kind of special techniques to improve their skills.
Each piece of work is designed  by the student together with  Santi Faugier,Josep González , David Quejido and Amelie Leroy. It is our teacher´s responsibility to guide the student through the technical process step by step and explaining the necessary theory to achieve a beautiful and interesting piece of handmade Jewelry.
Beginners often start using materials like copper, brass and alpaca. But after gaining experience and self confidence all students end up using precios gemstones and precious metals like Silver, Gold and Palladium for their works.Teachers always encourages the students to incorporate  materials like Aluminium, Titanium, Iron, Stainless Steel, Wood, Acrylic Glass and  Resin into their work.
Besides the classical Jewelry making techniques like sawing, filing, milling, piercing, welding and polishing, special technicques like etching, chaising, stone setting, keum boo and mokume gane can be learned during a workshop. There are of course a lot of other techniques which might be named.
During the workshop all the necessary tectiques are used to design and produce an interesting and complex piece of  jewelry.
This ist the schedule for Jewelry clases in 2020/2021:
Thursday 10:30 to 13:00
Monday,Tuesday, Wednesday and Thursday from 19:00 to 21:oo – 21:30 hs.
classes in Spanish or  English for Englishspeakers.
We offer:
20  hs. in classes 2 ½ hs.
We have no special date to iniciate a workshop. You can start any time during the whole year.
The student  chooses a day and comes to class once a week. After finishing a 15 , 24 or 36 hours workshop the student can continue with an other workshop, what most of our participants do.
Отпуск в Барселоне и курсы ювелирных изделий.
Мы предлагаем вам поучаствовать в наших курсах ювелирных изделий во время вашего пребывания в Барселоне.
Вы самостоятельно сможете создать ваши драгоценности с помощью наших мастеров! Например, для того, чтобы создать серебряное кольцо с драгоценным камнем вам понадобится всего 5-7 часов, не имея никакого опыта!
Наши курсы ведутся на испанском и английском языках, в зависимости от участников.
Вам индивидуально будет уделено внимание, так как количество участвующих в группе ограничено четырьмя человеками.
Мы научим вас различным техникам: ювелирной а так же изгибать, паять, стругать, полировать.
Все необходимое для производства будет предоставлено вам в нашей мастерской.
Краткое описание:
Индивидуальные курсы ювелирных изделий из золота или серебра, в зависимости от вашего опыта и потребностей: для начинающих и для студентов среднего уровня.
Наша мастерская находится в Грасии, в древнем районе Барселоны.
Расписание:
Вторник и среда 19.00-21.30
интенсивные курсы проводятся с пятницы по воскресенье.
Инструктор:
Давид – наш опытный и профессиональный мастер, ведущий курсы на испанском и английском языках.
Цены:
Вы можете принести с собой драгоценные материалы и камни или же преобрести их у нас.
Такой металл, как медь, у нас есть в наличии.
Для того, чтобы узнать наш прайс лист просто позвоните нам или же пришлите e-mail.
Here are some examples of our students works of beginners and advanced levels.