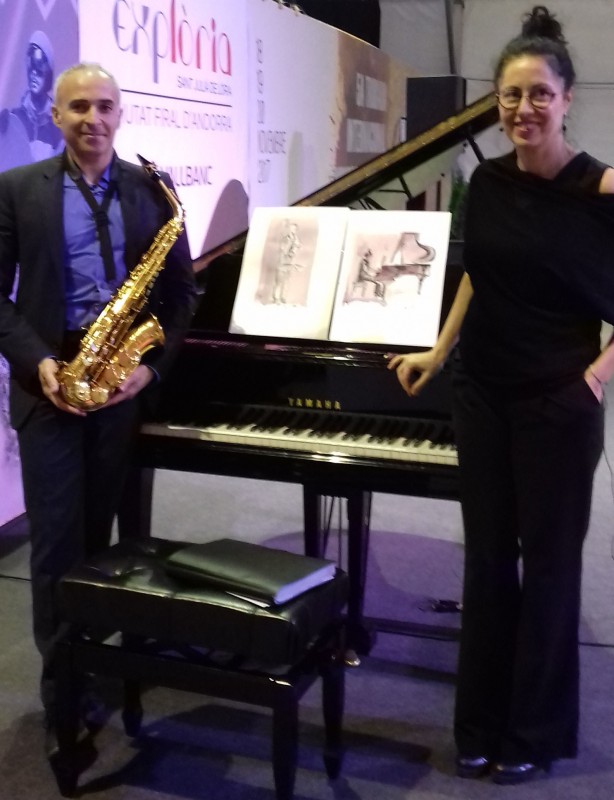 EXPOSICIONES:
2019 Galeria Broeschen-Mahón-Menorca
2018  Fira del vi-Arts contra la violència-Falset-Cataluña.
2017 Trobada internacional microproductors de vi a Andorra.
2017 "Enopinturas"Crianza visual
Museo Arellano AlonsoSanta
Universidad de Valladolid.
2014 "Gallery Hindhede" DennmarK2013 "the research of color"in her Studio Spiral
2013 "Pensa en vi" Workshop in Arenys de Munt.Barcelona.Spain.
2012 "Bacchus jewels in her Studio Spiral.
2011 "Red Wine Arts"Workshop.Centro Santa Mónica,Cataluña,Spain.
2010 "Léspirit del El Priorato, Cataluña, Spain
2010 European Film vi". Festival and Wine DO La Mancha.
2009 "New Wine" Workshop in her Studio Spiral.
2008 "Parenting" Workshop in her Studio Spiral.
2007 Emina Winery, San Bernardo, Valladolid.
2007 5th Congress of Spanish Wine Museums. "New Wine, Unlimited Sensations" Ribera de Duero. Spain.
During the congress she made the "1st Tasting of Wine and Paintings".
2006 Permanent Exhibition in her Art Gallery "Casa de La Espiral", Barcelona.
2006 "The Bulls and Wine", La Rioja. Spain. Viña Ijalba Wineyards and
"Peña Taurina El Quite"
2005 "Catalonian Wined and Cavas Fair", Barcelona.
2005 "Orfeo Gracienc", Barcelona.
2004 "Laietana Palace Hotel", Barcelona.
2001 "Puff", Municipal Museum of Modern Art Mendoza.
2000 "The Circular Ruins" Cultural Centre of Seven Channel, Mendoza.
1999 "Permanent Exhibition in her Art Gallery "La Rivera", Argentina.
1997 "Bad memory" Damasca Art Gallery.
1996 "Escape Valve" in Woman Foundation.
1995 "Self-portrait Series". Piscis-Hotel, Las Leñas Valley.
1994 "Tribute to Frida Kalho", Art Gallery Patio Mitre.
1993 "Lagunero´s Characters", Huanacache´s Desert.
1988 "Images of the Lagoon Party. Tribute to Juan Dragui Lucero, Aconcaguas Hotel.
AWARDS
3rd prize: 2006 "The bulls and wine". Painting contest, La Rioja, Spain.
"Bull blood" Wine on Canvas. Sponsored by Viña Ljalba Winevinyards and Peña Taurina
El Quite.
3rd prize: 1999 "Century Ending". Mural contest, Municipality of Godoy Cruz, Mendoza, Argentina
2nd prize: 1998 "Consulate of Spain", Mendoza, Argentina.
1st prize: 1995 Annual Visual Arts Exhibition "Grape Harvest", Fernando Fader Museum, Mendoza, Argentina.
1st prize: 1994 "Woman in Art" Avon.